This website is not affiliated with YouTube.com
Bookmarklet to directly download videos from YouTube, DailyMotion, Facebook, Vimeo, ...
The fastest and easiest way possible to download videos from YouTube and many other sites.
1.
Right click on the link below and choose 'Add to Favorites'.
2.
View a video on YouTube and then click the favorite that you added.
You will then see download links like shown.
Need more info?
Please see: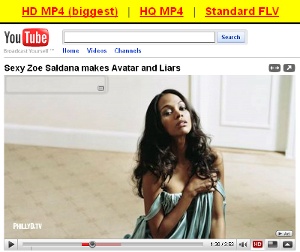 Tips:
For even faster access, add the bookmarklet to your links toolbar.
Works on any public webpage containing a YouTube video, and many other video sites.
Use the bookmarklet on pictures for rapid access to online image tools. NEW!

Just type pwn to download YouTube videos
more information
This website is not affiliated with YouTube.com